Striking 1-ounce Silver Rounds Honor Congressman Ron Paul
Get your hands on this limited and exclusive silver coin and own a piece of history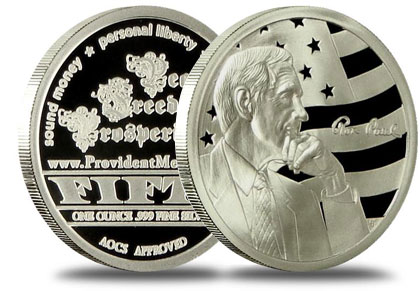 Just in time for the beginning of the 2012 election season, Provident Metals is pleased to announce its exclusive, limited edition 1-oz silver coin honoring Dr. and Congressman Ron Paul.
Containing 1-troy ounce of .999 fine silver, Ron Paul silver rounds offer not just a collectible item commemorating a modern American statesman - they offer the intrinsic value of silver itself.
This exclusive round from Provident Metals approved by the American Open Currency Standard (AOCS) features a portrait of the most premier advocate of gold and silver backed currency in the U.S.
Inscribed on the back are three universal principles of Dr. Paul's philosophy – "Peace, Freedom and Prosperity." The top also features an inscription of "sound money, personal liberty and free markets," three values the 12-term Congressman and 3-time presidential candidate has passionately advocated for nearly 40 years.
According to the U.S. Constitution, only gold and silver are to serve as legal tender and it is the responsibility of Congress to coin money and regulate its value.
Today though, regular currency (U.S. Dollars or Federal Reserve Notes) is not backed by anything and is done in virtual secrecy by the central bank with hardly any oversight from Congress.
Paul and his legions of supporters spanning all four corners of the U.S. – indeed the world – contend this system is not only unconstitutional, but very damaging economically, especially to the poor and middle classes.
Through his tireless work in Congress and on the campaign trail as a presidential candidate, Dr. Paul (…who's also a country OB/GYN doctor that's delivered 4000+ babies) has brought much needed attention to this point.
We're proud to offer an exclusive 1-oz silver round honoring Dr. Ron Paul, today's premier advocate of sound money and constitutionally limited government.
To grab your piece of history and take advantage of the benefit of owning silver, place your order for your 1-ounce Ron Paul silver today.
Don't wait - supplies are extremely limited. Either place your order through our secure online system or call (877) 429-8790 weekdays between 7:00 AM and 5:00 PM Central time to speak with one of our friendly representatives today.
Click the buttons below to shop for other investment grade silver!
1 oz Ron Paul Proof Silver Round | .999 Fine Silver Bullion Rounds
As low as
$6.95

over spot
Buy Now
Order by phone:
800-313-3315